NFL Power Rankings Week 16
Oldies but Goodies! 49ers wide receiver Randy Moss catches a touchdown pass from Colin Kaepernick, 49ers won 41-34 (REUTERS/Brian Snyder)
All 14 NFL games on week 15 observed a moments of silence to remember the victims of the tragic
Connecticut elementary school shooting.
After the somber mode, business as usual for teams on NFL playoff picture
hunt
for week 16. The San Francisco 49ers solidified their
Super Bowl
hunt by clinching the playoff berth and place among the NFC's elite by
edging the New England Patriots 41-34
on prime time Sunday Night Football.
But Denver Broncos earned the respect they deserve as
Peyton Manning
ruthlessly teared down the Baltimore Ravens' defense in a dominant win at M&T Bank Stadium. With New England Patriots suffering a 41-34 loss to the San Francisco 49ers on Sunday night, Denver now has a clear path to a first-round bye an AFC No.1 or 2 playoff seed.
Green Bay Packers looked very much like the 2010 championship team during a 21-13 victory over Chicago, their eighth win in the past nine games and clinching the NFC North. Texans clinch AFC South with 29-17 win over
Andrew Luck
Indianapolis Colts.
Here's the NFL Power Rankings
Week 16:
1. Denver Broncos 11-3
The AFC West champions snagged their 9th consecutive win at the expense of routing the Ravens. The Broncos, who can still capture the top seed in the conference, finish with home games against Cleveland and Kansas City. Playoff picture week 16: AFC No.1 seed and a bye week rest. Ranking 2 to 1
2. Atlanta Falcons 12-2
Falcons turned in their most well-rounded performance of the season with the playoffs approaching with 34-0 rout over the defending Super Bowl champ Giants. Playoff picture week 16: NFC No.1 seed with a bye week rest.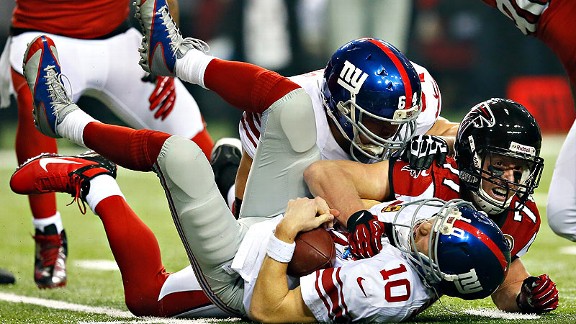 3. Houston Texans 12-2
The Texans clinched the division for the second straight year with a 29-17 victory over Indianapolis. Texans playoff picture would be AFC No.1 and 2 seed.
4. San Francisco 49ers 10-3-1
The red and gold clinch playoff spot by trouncing the New England Patriots at their home turf! The 49ers own at least a wild-card spot and play at Seattle next week with a chance to win the NFC West. A loss would bring the division race down to the final weekend. Playoff picture week 16: NFC playoff second seed which give them a bye week rest.
5. Green Bay Packers 10-4
Green Bay clinched its second straight NFC North title with a 21-13 victory over the archrival Chicago Bears on Sunday. Playoff picture week 16: NFC playoff second seed and bye week rest Ranking 6 to 5
6. New England Patriots 10-4
AFC East champion New England have seen their seven in a row game ended by 49ers.
Tom Brady
being MVP front-runner was stained after failing a 28-point comeback. Playoff picture week 16: AFC playoff third or fourth seed.
7. Seattle Seahawks 9-5
Seahawks playoff push continues running to win the NFC West but 49ers wins Sunday over Patriots. They return home on Week 16 to host division-leading San Francisco 49ers in what has become a key showdown. Seahawks playoff picture could be at least NFC Wild card or No.3 seed. Ranking 10 to 7
8. Washington Redskins 8-6
Without Robert Griffin III who is hurt, backup rookie QB Kirk Cousins kept Washington's winning streak and playoff hopes intact. Redskins target NFC East title by winning their last two games at Philadelphia and hosting Dallas. Ranking 12 to 8
9. Indianapolis Colts 9-5
The Colts had won three straight games and needed a win to clinch a playoff berth but Andrew Luck couldn't do much against the inspired Houston defense. AFC wildcard is an option with Week 16 and 17 at Kansas City then Houston. But Colts exceeded already all expectation year after going 2-14 in 2011.
10. New York Giants 8-6
Giants loss to Falcons dropped them into a first-place tie with Washington and Dallas in the NFC East. Their last two games against Baltimore and Philadelphia is a must win. Playoff picture week 16: NFC East title and Wildcard. Ranking 7 to 10
11. Baltimore Ravens 9-5
Ravens lost to the Broncos, their third straight. Despite the defeat, the Ravens qualified for the playoffs when Pittsburgh lost to Dallas on Sunday night. That gave the Ravens a wild-card berth, but they hope to enter the postseason as division champions with tough NY Giants and Bengals on Week 16 and 17 respectively. Playoff picture on week 16 could be AFC No.3 or 4 seed. Ranking 8 to 11
12. Dallas Cowboys 8-6
Cowboys win push them into a three-way tie for first place in the crazy interesting NFC East with the Giants and Redskins with two games left in the season in a must win versus New Orleans and Washington. Playoff picture week 16: NFC East title that could give them third seed or wild card. Ranking 13 to 12
13. Cinncinati Bengals 8-6
These Bengals makes AFC North interesting, with Steelers and Ravens loss they are on wild card and fighting for division title if they can beat this two division rivals in their last two games.
14. Minnesota Vikings 8-6
Vikings bionic running back
Adrian Peterson
has season-best 212 yards might win the comeback player of the year! Beating Peyton Manning? Playoff picture: Vikings still in the hunt for NFC Wildcard if Seattle lost on Week 16 versus 49ers. Ranking 18 to 14
15. Chicago Bears 8-6
Bears free fall continues with third straight loss. Chicago lost some ground in the race for the last wild-card spot in NFC. Ranking 11 to 15
16. Pittsburgh Steelers 7-7
The Steelers lost for the fourth time in five games and trail AFC North rival Cincinnati by a game for the second wild card spot on playoff picture. Steelers host the Bengals in a must win next week then Cleveland after. Ranking 15 to 16
17. New York Jets 6-7
The Jets plays the Titans on Monday Night Football, If
Tim Tebow
starts and win that could make
Rex Ryan
more bad.
18. St. Louis Rams 6-7-1
Rams three wins in a row was snapped by the Vikings so as seriously damaging their postseason hopes. Rams playoff picture is in shambles.
19. New Orleans Saints 6-8
Saints recorded their first shutout in 17 years in a 41-0 rout of Tampa Bay on Sunday, and spoiling the Buccaneers playoff hopes. Ranking 22 to 19
20. Miami Dolphins 6-8
Dolphins ranked near the bottom of the league in points and yards, had a season-high 26 first downs and won for only the second time in the past seven games.
21. Cleveland Browns 5-9
Cleveland's three-game winning streak was snapped by Redskins together with their playoff hope as well. Browns is on the right track something they can build on for next season.
22. Tampa Bay Buccaneers 6-8
Their loss to the Eagles proved to be painful. Saints 41-0 rout of Tampa Bay extend the Buccaneers' losing streak to four games. The Bucs are out of playoff picture. Ranking 18 to 22
23. Arizona Cardinals 5-9
Arizona's first victory in 2 1/2 months came a week after laying an egg on 58-0 embarassing loss in Seattle.
24. Tennessee Titans 4-9
Titans could have a rough finish to 2012 facing NY Jets tonight Monday Night Football
25. Buffalo Bills 5-9
Buffalo were mathematically eliminated from playoff picture for a 13th season - the NFL's longest active drought.
26. San Diego Chargers 5-9
Clinched not the playoff but their first losing season since 2003, when they were an NFL-worst 4-12. Coach Norv Turner is expected to be fired at season's end, most likely along with general manager A.J. Smith. Ranking 23 to 26
27. Carolina Panthers 5-9
Carolina won consecutive games for the first time but too bad it happens in December.
28. Detroit Lions 4-10
For the Lions that made the playoffs a year ago and missing this year with Matthew Strafford, Megatron Calvin Johnson and the dirtiest, cheapest player in the NFL DT Ndamukong Suh are just maddening. Ranking 25 to 28
29. Oakland Raiders 4-10
Raiders finally ended up on the winning end. If only they could play the Kansas City Chiefs more often. Ranking 30 to 29
30. Philadelphia Eagles 4-10
Reid led the Eagles to nine playoff appearances, six division titles and five NFC championship games in his first 13 years. But the Eagles will miss the playoffs for the second straight year and owner Jeffrey Lurie already said 8-8 would be ''unacceptable.'' Bye Andy. Ranking 27 to 30
31. Jacksonville Jaguars 2-12
QB Chad Henne is not Superhero after all. The Jaguars tied the franchise record for losses, set in their inaugural 1995 season.
32. Kansas City Chiefs 2-12
Chief's only win since September came the day after linebacker Javon Belcher killed his girlfriend before committing suicide at the team's practice facility. Now they are running for the 2013 No. 1 overall NFL draft pick.