It's time for the
Atlanta Falcons
to move on from starting running back
Michael Turner
in favor of the elusive
Jacquizz
Rodgers. Yesterday, Michael Turner ran for 17 yards on 13 carries. Against the Saints, Turner ran for 15 yards on 13 carries. He ranks 40th in the NFL with a paltry 3.5 yards per carry.
As AJC beat writer extraordinaire D. Orlando Ledbetter points out in
this article from today's AJC
, Quiz Rodgers was involved in more offensive plays than former feature back Michael "Slow Burner" Turner.
The move has been coming for a while now. Turner simply lacks the burst and drive that once made him one of the best in the
NFL
over the past four years in Atlanta.
Rodgers, a fifth-round pick in the 2011 NFL draft out of Oregon State, has slowly emerged as the better option for the Falcons in the backfield. Not only is Rodgers an electric runner, but he's also dynamic in that he can catch passes out of the backfield better than Turner can.
In a system that is now even more pass-oriented than ever before in Atlanta, Turner has essentially become obsolete. It's clear as day whenever he is in the backfield that he'll be taking the
handoff
for some form of a running play.
Things aren't as clear when Rodgers is in the backfield. He's caught 35 passes for 288 yards and one score so far this year. It's hard for a defense to predict exactly what the Falcons plan on doing when Rodgers is behind quarterback
Matt Ryan
thanks to his impressive versatility.
The same cannot be said for Turner, who only has 16 catches for 109 yards and one touchdown. Factor in a 60-yard catch, and it's clear as day that when Turner is in, he'll be running the ball.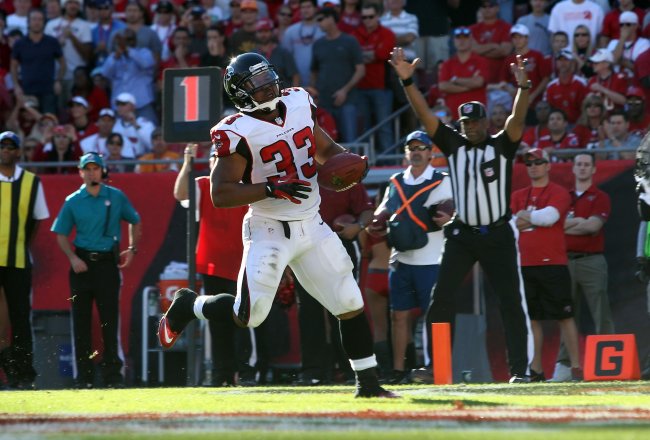 Entering the Week 12 matchup with the
Tampa Bay Buccaneers
, Turner had rushed the ball 168 times for 592 yards and six touchdowns as the feature back. His 3.5 yards per carry average isn't good enough considering opposing defenses are focused on the potential MVP at quarterback in Ryan.
While Turner should be seeing some of the softer defenses he's encountered in Atlanta as teams attempt to stop the Ryan-led aerial attack, he has failed to take advantage by appearing slow to hit the holes created by his offensive line.
Conversely, Rodgers has made the most of his limited attempts. Entering the game he had only seen 50 carries for 182 yards, which brought him to a mediocre 3.6 yards per carry average.
The difference in the two backs was on display against the Buccaneers. Turner carried the ball 13 times for just 17 yards and a touchdown. Rodgers carried the rock 10 times for 49 yards and a score.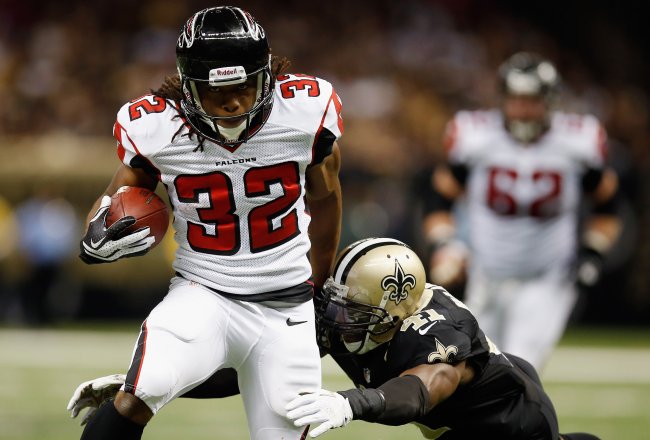 Chris Graythen/Getty Images
While Turner should not be benched outright, he most certainly isn't a franchise back that can be an effective workhorse anymore. The guard needs to be passed to Rodgers at this point, as he will be more effective and dynamic on every down.
Turner is now the dreaded age of 30 and represents a massive cap hit for the Falcons moving forward. At this point it doesn't hurt for the Falcons to give Rodgers the entire load to see what he is capable of in preparation for when Turner isn't around.
With Rodgers carrying the load, there's a chance it will have a positive impact on Turner's production as well. Outside of the motivation factor, Turner could remain well-rested while Rodgers handles the majority of the snaps.
The passing of the guard has already begun in Atlanta. Against Tampa Bay, Rodgers received double-digit carries for only the second time this season. His touchdown run came on a 3rd-and-1 play that would have normally featured the heavier and powerful Turner.
Clearly the coaching staff is preparing to have Rodgers as the feature back, and for good reason. Rodgers is a versatile back that will only improve the Falcons offense.
Rodgers needs to be the starting running back in Atlanta, sooner rather than later.